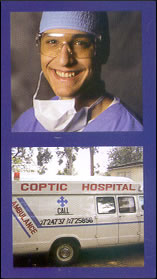 "Blessed are they who show mercy; mercy shall be theirs." -- Matthew 5: 7
Jesus said that who ever helped one of the underprivileged people, as if he helped Jesus himself. Based on this principle, the coptic mission provides many services to the poor including:
1. The coptic hospital, providing full scale medical and surgical care to thousands every year, many are full charitable care.
2. The hope center provides compassionate and quality care to patients suffering from AIDS and other infectious diseases.
3. Other medical services include rural clinics, community outreach programs, ambulance service, and an on-site pharmacy service.
You may find detailed information about these services at the website http://www.copticmission.org